FRIEDRICH OSSENBERG-SCHULE GMBH + CO KG
introduces a logical Implementation of necessary measures concerning wind suction security for Roof tiles und concrete tiles according to the newest Expert regulations of ZVDH from March 2011.
A dynamic program was designed to present you with the adjustment of Storm clips relating to deck raster, allowing for the respective object-related measurement of wind load in connection with technical details of Roof tiles/Concrete tiles in operation.
You can adopt the findings in your documents.
Calculation of the required designed load for the proposed clip will be determined through connection with Roof tile/Concrete tile in tests according to the European Norm EN 14437.
An important criteria for storm security of Roof tiles is the covering at the areas of the four-fold coverage.
3 possible designs of the details are distinguishable at the Roof tile.
1. The tile has a covering (Picture 1):
The Roof tile at top right covers the Roof tile at bottom left and right with its interlocking joint.
A side-lock clip is used here as the optimal grouting that holds and attaches the top tile and both bottom tiles indirectly. Interconnection among one another is being developed. The lateral wrap-around of a perpendicular row is barred.
2. The tile has no covering (Picture 2):
The Roof tile at top right excludes the Roof tile at bottom right and covers with its interlocking joint .
A head side-lock clip is used here as the optimal grouting. It catches at the side-lock of the tile at top right and at the head interlocking joint of the tile at bottom left. Only through this manner of fixation can a diagonal interconnection of Roof tiles among one another be achieved, thereby preventing prying out of the whole row.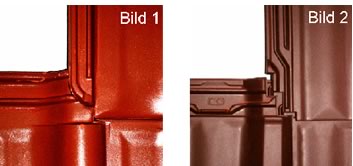 3. The tile has a covering which gets lost through the pull-apart at horizontal level:
An optimal storm security of such roof tiles can be achieved through the use of a side-lock clip.
It has to be taken note of, however, that the covering may get lost through too wide a pull-apart in horizontal direction. Head side-lock clips could otherwise be used for fixation.
Syllabuses from the Expert regulations of the ZVDH are presented under EXPERT REGULATION.
Valuable considerations for implementation of the Expert regulations for required measures can be found in our explanations under WIND SUCTION.
We use the following materials for the production of our products:
Iron wire and ribbons which are durable through a corrosion-resistant zinc-alclad ZIAL®
Using copper wire and ribbons as corrosion-resistant materials
Stainless steel wire and ribbons
Class reinforced plastic (PBT)
Aluminium wire and ribbons in corrosion-resistant alloy
Stainless steel wire and Aluminium ribbons with weather proof, coloured coating

FRIEDRICH OSSENBERG-SCHULE GmbH + Co KG works in close collaboration with the Roof tile and Concrete tile industry so as to develop solutions for fixation of Roof tiles/Concrete tiles for the Roofer Trade.
back to top